Chuck Mitchell & Roger Womack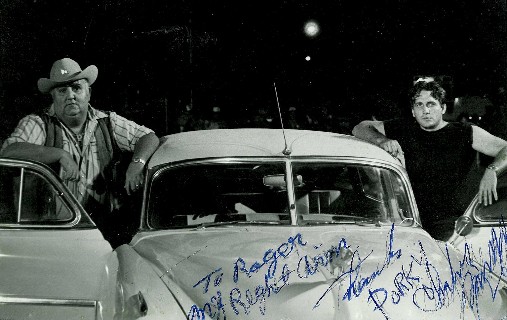 .
"Porky's" 1981
---
about the compiler
The Compiler, Roger Womack, was born in Blanchard, OK., raised around Oklahoma City, OK., went to High School in Moore, Oklahoma. Zoe University in Jacksonville, FL., Bachelors Degree in Divinity, with a major in Christian counseling. Worked as a professional stuntman/stunt coordinator and animal wrangler in the motion picture industry. Charter boat captain, sport fishing in the Bahamas, and South Florida area, also captained a commercial long line boat, fishing for swordfish. Raised and bred venomous and non-venomous snakes and was Curator of Reptiles at Broward County's Markham Park Zoo in it's early years. Moved from Ft. Lauderdale, FL., to Vancouver, WA., in 1990. In 1992-1993, Top 10 sales professionals in the United States with Honda Motor Company, in 1993 ranked number 1. Made the top 10 sales training videos for American Honda Motor Company in 1993-1994 in Maui, Hawaii. For the past 14 years Marta and I have been working in apartment and project management in the Pacific Northwest.
In 1997 I started placing my genealogy research on the web. My wife Marta thinks I spend way to much time "looking for dead people" as she says!! But I guess a person could find worse ways to spend their spare time.
In just a few short years Womack Family News & Womack Genealogy Network has become one of the largest and best single surname websites on the internet, thanks to all of you.

To date I have collected a little over 100,000 Womack ancestors and descendants in my personal database, working on all lines from the past to present. So if you have Womack / Wamack, Wammack, Warmack, Womac, Womach, Wommack, Womick, Wormack etal., connections, please contact me, we may be able to help each other.
William Womack, born ca. 1610-1620, believed to be the patriarch of most Womack's in the United States today. Personally I have never found any documentation or proof that he actually existed other than traditions past down from generation to generation. Most records that have been used to show proof, I believe refer to his son William. Whoever our patriarch was William or a Richard, as some believe based on the 1672 land patent, we do have records of his children.
Oscar Womack Editor, Womack Genealogy Newsletter, January 1957, said "we should try to prove our lineage as in a court of law", however I know there are times when that piece of paper is just not there and all we have is family traditions. As Sam Womack another Womack researcher has said many times, "I'm not calling my ggrandma a liar". Proof is very important and we should make every effort to find it whenever possible.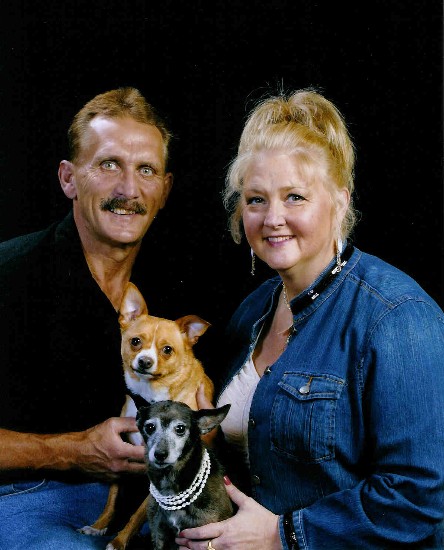 Roger & Marta Womack, Aug, 2005
( Bob and Patches )
(online edition)
HTML production and Copyright © 2011 Roger Womack . This document, images and or information contained at this website or my personal links may be duplicated or printed for use in personal research as long as this copyright notice is included. It may not be reproduced in any other media form and or for commercial use or for other organizations or homepages without the express written consent of the author. All rights reserved